What's your favourite film?
This is considered 'the best':
Jay Doubleyou: what's your favourite film?
But there are other opinions:
Jay Doubleyou: what's your favourite film - we love lists of favourite films...
What about different genres?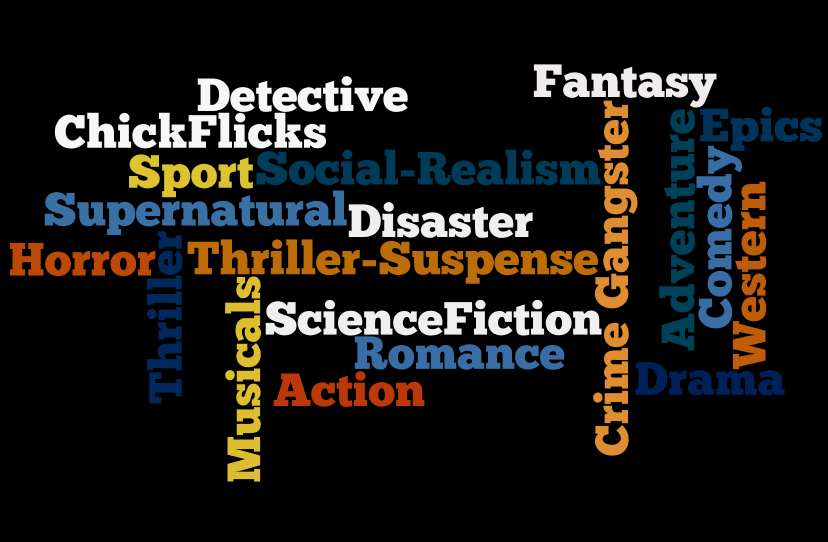 Jay Doubleyou: utopia ... dystopia
Jay Doubleyou: the mockumentary
Jay Doubleyou: blockbusters don't have to be stupid
Jay Doubleyou: the movies and ... travel, shakespeare, race, violence, inspiration, gender, business...
Here's a very difficult film to classify:
Jay Doubleyou: fight club: how many film genres in one film?
An action movie?
Fight club TRAILER - YouTube
But the director and actors didn't think so:
Marketing executives at 20th Century Fox faced difficulties in marketing
Fight Club
and at one point considered marketing it as an
art film
. They considered that the film was primarily geared toward male audiences because of its violence and believed that not even Pitt would attract female filmgoers. Research testing showed that the film appealed to teenagers. Fincher refused to let the posters and trailers focus on Pitt and encouraged the studio to hire the advertising firm
Wieden+Kennedy
to devise a marketing plan. The firm proposed a bar of pink soap with the title "Fight Club" embossed on it as the film's main marketing image; the proposal was considered "a bad joke" by Fox executives. Fincher also released two early trailers in the form of fake
public service announcements
presented by Pitt and Norton; the studio did not think the trailers marketed the film appropriately. Instead, the studio financed a $20 million large-scale campaign to provide a press junket, posters, billboards, and trailers for TV that highlighted the film's fight scenes. The studio advertised
Fight Club
on cable during
World Wrestling Federation
broadcasts, which Fincher protested, believing that the placement created the wrong context for the film.
[46]
Linson believed that the "ill-conceived one-dimensional" marketing by marketing executive Robert Harper largely contributed to
Fight Club
'
s lukewarm box office performance in the United States.
[51]
Fight Club - Wikipedia, the free encyclopedia
> An anti-consumerist movie?
Deliver Me - YouTube
Futures Forum: Transitioning from a Consumer Culture
>>> to Sustainable Consumption
Jay Doubleyou: fight club and anti-consumerism
> A movie about 'masculinity'?
Jay Doubleyou: exploring gender: masculinity and 'fight club'
> But others think that 'Fight Club' is all about Hollywood just playing with the issues around 'gender':
It's not surprising that people lament that
Fight Club
is about pounding people's faces in. And certainly, feminist and Freudian analyses of the film abound as well. But all this gender analysis is missing the point. Although
Fight Club
will be remembered as a film about masculinity, it has nothing of any interest or coherence to say about it. The real focus of its concern is the dehumanizing impact of the three big Cs: consumerism, corporatism and capitalism.
Fight Club
is a political and philosophical film about human identity, a condemning critique of the way most Americans live meaningless, half-dead lives. Perhaps framing that in a gender context was the only way a) to garner
Hollywood
interest in the film and b) to make trashing the American way of life palatable to a mass audience.
The Movie Fight Club Uses Aggression and Masculinity as a Vehicle for Class Warfare - Yahoo Voices - voices.yahoo.com
How can watching films help us learn a language?
We can learn to speak like a native from films:
Jay Doubleyou: learn english from movies
This is real English:
Jay Doubleyou: how to learn english from movies
Films can move us... or even change us:
Jay Doubleyou: "i think this is one of the few movies that might actually be able to inspire someone to lead their life a little differently."
Should you watch with or without subtitles?
Jay Doubleyou: how to learn english from movies - some tips
With this example, the subtitles actually destroy the moment:
Does the director want you to hear what is being whispered?
The Godfather - First Scene - YouTube
The Godfather opening scene english subtitles - YouTube
.
.
.