A big anniversary on Saturday 28th June:
World War One anniversary: what if Archduke Franz Ferdinand had lived? - YouTube
Different countries see the whole World War One thing very differently:
On 28 June 1914, Gavrilo Princip assassinated in Sarajevo the Austrian Archiduke Franz Ferdinand of Austria (heir to the throne) and his wife Sofia. This act allegedly triggered the World War One.
History is not written by the victors but by the historical visionaries, and it's not about truth -- it's about paradigms. It's an art to argue, a performance to convince, and the victory condition of history itself is to create a story that seem plausible, and also applicable to different times, in the future, in the past.
Consider the First World War, the first Great War, a war without precedent and supposedly impossible nowadays. The lad who pulled its trigger was Gavrilo Princip, a teenage Serb, a Bosnian Serb one might say, a Pan-Slavic conspirator against the Austro Hungarian Empire, a Yugoslav, an activist, a terrorist, a patriot, a national freedom fighter… what a lot of names he has.
In Bosnia 28 June hundred years later Gavrilo is celebrated in the Serbian part as a hero (thanks to the famous director Emir Kusturica), while in Bosnian Sarajevo he is remembered as a terrorist.
In Belgrade, Gavrilo Princip has his own road, which descends from the seven Belgrade hills, to the banks of the meeting point of two big rivers Sava and Danube.
World War One: on the peculiar geopolitics of passionate, armed teenagers - Boing Boing
While many Serbs see Princip as a hero, many Croats consider him a terrorist, and schools in former Yugoslav countries teach different histories about the causes of the 1914-18 war, reflecting more recent conflicts in the region, as a recent BIRN investigation showed.
Bosnia marks World War One centennial, 30 June 2014
Statue of assassin who unleashed WW I unveiled in Sarajevo
June 30, 2014 -- Updated 0732 GMT (1532 HKT)
Gavrilo Princip fired the shots on June 28, 1914

He fatally shot Austro-Hungarian Archduke Franz Ferdinand and his wife

The assassination is considered the start of World War I
(CNN) -- One hundred years after firing the shot that set off World War I, Gavrilo Princip was toasted by some Saturday in Sarajevo -- whether they wore T-shirts emblazoned with his face or admired a statue recently unveiled in his honor.
Today, opinions on Princip are mixed. Some in Bosnia-Herzegovina -- of which Sarajevo is the capital -- think he was a terrorist, reported CNN affiliate N1. But there are also a number of Bosnian Serbs who view him as a hero, N1 reported.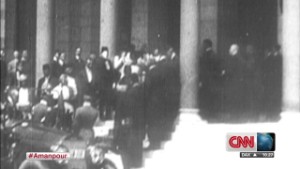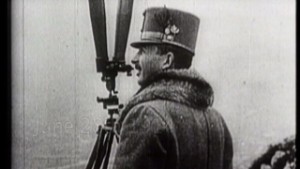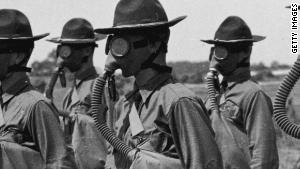 The former viewpoint was on display in Friday's unveiling of a statue of Princip in Sarajevo. Media footage showed officials clapping as others looked on to catch a glimpse of the life-sized portrayal.
Princip was 19 years old June 28, 1914, when he assassinated Austro-Hungarian Archduke Franz Ferdinand and his wife, Sophia, as the couple rode in an automobile through the streets.
Bosnian Serbs Honor Assassin Who Started World War I
Serbs unveil statue to 'hero' who triggered World War I
WWI centennial event without Serbs | News | DW.DE | 28.06.2014
There was plenty of propaganda about this young man at the time: here from Austria:
The lie that started the First World War - Telegraph
Here are some propaganda posters from Britain:
World War One propaganda: A look at wartime ads from 1914-1918
As Saturday 28 June marks 100 years since the start of World War One, we take a look back at some of the most famous propaganda ads from the time.
Your king and country needs you
The Secretary of State for War awarded Sir Hedley Le Bas, Eric Field, and the Caxton Advertising Agency a contract to advertise for recruits in the major UK newspapers.
While the war was essentially set in motion on 28 June, following the assassination of the Archduke Ferdinand, Britain did not officially declare war on the German Empire until 4 August 1914. The next day, this ad appeared in print.
War bonds. Feed the guns!
Young men of Britain! The Germans said you were not in earnest
Another ad hitting out at Germans, this recruitment ad looks to make men who haven't signed up yet want to prove Germany wrong.
Designed and printed by Johnson, Riddle & Co, this came amongst a series of ads warning against "the barbarian".
World War One propaganda: A look at wartime ads from 1914-1918 | The Drum
And there is plenty of myth-making today:
First World War "myths", by Dan Snow
1. It was the bloodiest war in history to that point
3. Men lived in the trenches for years on end
4. The upper class got off lightly
5. 'Lions led by donkeys'
6. Gallipoli was fought by Australians and New Zealanders
7. Tactics on the Western Front remained unchanged despite repeated failure
9. The Treaty of Versailles was extremely harsh
Historian Dan Snow received hate mail for debunking World War I 'myths' - Telegraph
On the other hand, here are some 'crazy facts':
The Man Who Ignited WWI Has A Nephew Who's Still Alive (And Other Crazy Great War Facts)
In Turkey today, there is some rethinking going on:
Marking the World War I centennial in Turkey, where denial gives way to dialogue | Columns | Daily Sabah
But not to the extent that some would like:
Ferllini and Croft: The Case of an Armenian Mass Grave | Armenian Weekly
And back in Britain, there is controversy over whether the War should be 'celebrated' at all:
Artistic West View children celebrate centenary of World War One
ARTISTIC children celebrated the centenary of the First World War with an exhibition in their school.
The talented youngsters from West View Primary School, in Davison Drive, Hartlepool, used water colour paints, pastels, charcoals, collage and printing to each create a work of art for the gallery.
The 390 pictures and paintings – by every child in the nursery and school – have been professionally framed and hung in the hall and can be bought by parents.
So far sales of the paintings have raised more than £250, with £1 from every £6 piece being ploughed back into the school's pot for creative activities.
The other £5 is to pay the company which set up the gallery.
Teacher Michelle Ellis said: "The gallery was set up to celebrate the 100-year anniversary of World War One.
"The children have created paintings based around the subject of the war.
"So every class created paintings from every pupil and then we had a company come in and frame and hang all of the work."
Parents have been invited into the schools to see the hundreds of paintings on display and Miss Ellis said it has gone down very well.
She said: "The parents have loved it and the children have really liked doing it.
"They keep asking to go into the hall to see the gallery so that they can point out their picture.
"It looks fantastic too, with 390 pictures."
Artistic West View children celebrate centenary of World War One - Hartlepool Mail
But the Education Secretary would like some different perspectives:
Children should learn more about German suffering and feelings in WWI, Gove says
Children should be taught more about the feelings and suffering of German troops during the First World War, Michael Gove suggests
Schools should teach children about the feelings and suffering of German soldiers in the First World War, Michael Gove has suggested, as he admits he would "love" a greater focus on how Britain's enemies felt.
Mr Gove, the education secretary, said he would encourage teachers to give more time to "an exploration of how others felt" during the conflict.
Speaking at the Chalke Valley History Festival, he argued it was "just as fascinating" to examine how the soldiers of Germany approached the war as to read about the feelings of the British.
When asked whether the point of view of Britain's "enemies" should be taught in secondary schools, Mr Gove said: "Ideally yes.
"I have to be careful, because one of the arguments I often make is that teachers are better equipped to decide how lessons should develop and where the emphasis lies.
"It's perfectly possible to have a good series of lessons about the experience of British soldiers and what happened to Britain.
"But I would love it if there was more understanding of and more space for an exploration of how others felt.
"Understanding why German bishops pray for victory in 1914 and why the Germans thought theirs was a just war is fascinating."
In an event to celebrate the poetry of the First World War, he told an audience: "Among the things I think it's important to do as we remember both the tragedy of the war and the bravery of those who fought, it that we should rescue those who fought from what's been called the condescension of posterity."
Children should learn more about German suffering and feelings in WWI, Gove says - Telegraph
The BBC is doing a lot of work on WWI:
BBC World Service - The War That Changed the World
BBC News - Bosnia and WW1: The living legacy of Gavrilo Princip
BBC Schools - World War One
BBC - School Radio - Private Peaceful by Michael Morpurgo
.
.
.